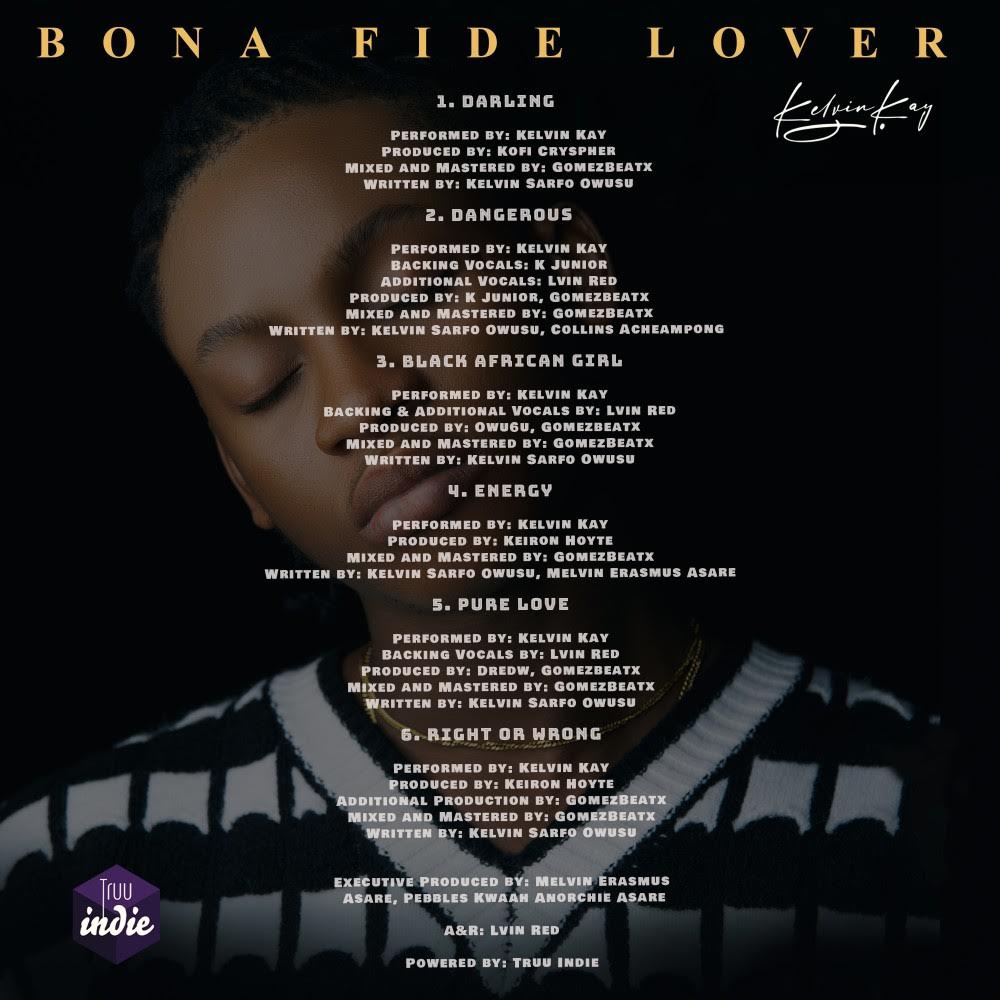 In a world where music becomes the thread weaving diverse cultures and emotions, emerges an artist who doesn't just create melodies; he crafts tapestries of sound that transcend boundaries. Hold tight as we journey into the realm of Kelvin Kay's much-awaited debut EP, "Bona Fide Lover". Comprising an exquisite array of six captivating tracks, this EP delves into the realms of love, vulnerability and the pursuit of authentic self-expression. With no features, Kelvin Kay's artistic statement stands strong as he fearlessly bares his soul through his music.
"This is my first canvas, a blank space onto which I pour my thoughts, emotions and experiences", Kelvin Kay asserts. "Through an amalgamation of languages and cultures, I'm weaving a sound that encapsulates the raw essence of who I am. No features ensure that every note, every word, is a testament to my truth, fearlessly told through my voice."
"Bona Fide Lover" is an auditory expedition traversing Soul, R&B, Highlife and Afrobeats that captivates listeners from the very first note. Collaborating with visionary producers Dredw, K Junior, Keiron Hoyte, Owu6u, Kofi Cryspher and GomezBeatx, Kelvin Kay's musical journey transcends conventions, uniting cultures through an eclectic sound.
Kelvin Kay's Bona Fide Lover sees him wear his heart on his sleeve with each track telling a unique story:
Darling: The EP begins on a soothing note with 'Darling', a heartfelt track that explores the depths of love and the lengths one would go to make their beloved happy.
Dangerous: 'Dangerous' transports listeners into a dreamlike state, juxtaposing reality and fantasy, narrating the heartache of unattainable dreams and realizing that the dream is just that – a dream.
Black African Girl: The pace picks up with 'Black African Girl', as the 808s reverberate and converge with the harmonies in celebration of black women's beauty and strength. Kelvin Kay's enchanting vocals and catchy melodies beautifully depict his admiration for African women.
Energy: 'Energy' paints a vivid picture of the electrifying connection between two individuals, capturing the intoxicating mix of emotions and desires that spark between them.
Pure Love: 'Pure Love' is a confluence of genres, a marriage of Afrobeats, Highlife, and R&B that pays homage to genuine love and envelops the listener in its ethereal warmth. Kelvin Kay's sincere lyrics and soulful delivery create an enchanting and modern sound.
Right or Wrong: The EP climaxes with 'Right or Wrong', melding English, Twi and Pidgin to recount a tale of love and aspirations. This track mirrors Kelvin Kay's journey as an artist chasing stardom while nurturing a romantic relationship.
The curtain falls on this captivating auditory journey, leaving us with a deep appreciation for an artist who has mastered the art of musical storytelling. Until the next verse unfolds, let the essence of "Bona Fide Lover" resonate, reminding us that music is indeed the universal language that unites us all.
With international chart success already under his belt in countries such as Jamaica, Kenya, Mauritius, Bahrain, Madagascar, Armenia, Cape Verde, Bermuda, Ghana, Chad and Liberia, Kelvin Kay's reach is undeniable. "Music has the power to heal, inspire and unite people from all walks of life. I want my music to create a genuine connection with my listeners, transcending cultural boundaries and telling stories they can relate to", Kelvin Kay states.
"Bona Fide Lover" encapsulates a story of unwavering belief in love, painted against a backdrop of genre-defying melodies and heartfelt lyrics. Listen to Kelvin Kay's "Bona Fide Lover", now available on all music streaming platforms here: https://kelvinkay.fanlink.to/bonafidelover
https://audiomack.com/embed/kelvinkaymusic/album/bonafidelove
Instagram: kelvinkaymusic
Twitter: @iamKelvinKay
Facebook: Kelvin Kay