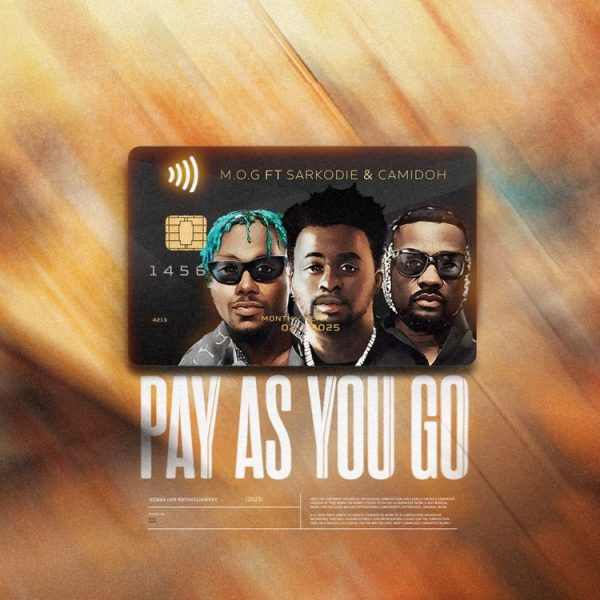 Multiple award-winning Ghanaian music producer M.O.G Beatz has once again proven his mettle with the release of a scintillating afropop masterpiece titled "Pay As You Go." Collaborating with rap maestro Sarkodie and afropop luminary Camidoh, this song represents an unbridled celebration of love and musical prowess.
"Pay As You Go" emerges as a sonic triumph, showcasing the convergence of M.O.G Beatz's production ingenuity, Sarkodie's lyrical finesse, and Camidoh's soul-stirring melodies. The track resonates with an enchanting blend of afropop rhythms and harmonies, delivering an auditory experience that is simultaneously mesmerizing and soulful.
At the heart of "Pay As You Go" lies an unreserved and unrestrained declaration of love. Sarkodie and Camidoh paint an exquisite portrait of affection, capturing the depth and intensity of emotions that arise in the presence of that special someone. With heartfeltverses and captivating refrains, the song becomes an anthem of devotion that speaks to audiences across cultures and borders.
The collaboration represents a seamless union of distinct talents, each artist contributing their unique strengths to create a harmonious symphony that embodies the very essence of Ghanaian music. M.O.G Beatz's masterful production sets the stage, allowing Sarkodie's lyrical prowess to shine through while Camidoh's soulful vocals infuse the track with a soul-stirring sensibility.
"Pay As You Go" is now available on all major streaming platforms.
https://onerpm.link/229605472698