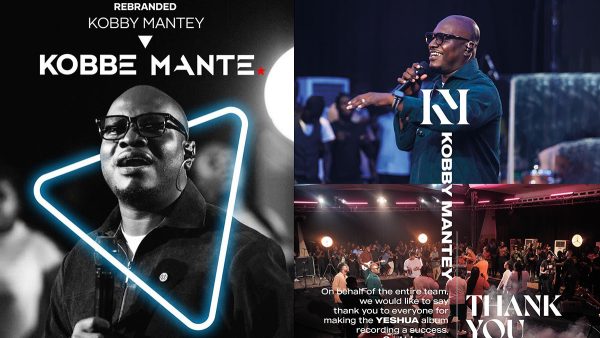 Ghanaian contemporary Gospel music minister, Kobby Mantey, has embarked on an exciting new journey of reinvention, emerging as Kobbe Mante.
This significant rebranding comes on the heels of his highly successful and controlled 'Yeshua' live album recording concert, which left audiences captivated and craving more of his soul-stirring music.
Kobbe Mante's decision to rebrand reflects his evolution as an artist and his desire to explore new creative avenues within the realm of Gospel music. This transformation marks a pivotal moment in his career, signaling a fresh chapter of growth, innovation, and musical exploration.
The 'Yeshua' live album recording concert was a testament to Kobbe Mante's unwavering commitment to his craft and his passion for spreading the message of faith, hope, and redemption through music.
The controlled concert which featured other Gospel greats such as Akesse Brempong, MOGmusic, Efe Grace & Flora, was a masterful showcase of his exceptional talent, powerful vocals, and ability to connect with audiences on a profound level.
As Kobbe Mante embraces this new identity, he is set to take the Ghanaian Gospel music scene by storm. His rebranding signifies his determination to push boundaries, experiment with new sounds, and reach even greater heights in his musical journey.
With a fusion of contemporary Gospel and authentic Ghanaian elements, Kobbe Mante promises to captivate listeners with his unique sound and lyrical depth.
The 'Yeshua' live album, which served as a defining moment in Kobbe Mante's career, showcased his versatility as a musician and his unwavering dedication to creating music that uplifts, inspires, and transforms lives.
The project is a testament to his growth as an artist, as he fearlessly explores different musical styles and genres while staying true to his core message.
As fans eagerly anticipate the release of Kobbe Mante's upcoming projects, they can expect to be taken on a musical journey that transcends boundaries and defies expectations.
His rebranding as Kobbe Mante symbolizes a renewed commitment to artistic excellence and a resolute determination to make a lasting impact in the Ghanaian Gospel music landscape.
Stay tuned for the captivating music that Kobbe Mante has in store. As he embarks on this exciting new chapter, one thing is certain – his music will continue to inspire, uplift, and bring people closer to their faith.
–ends–