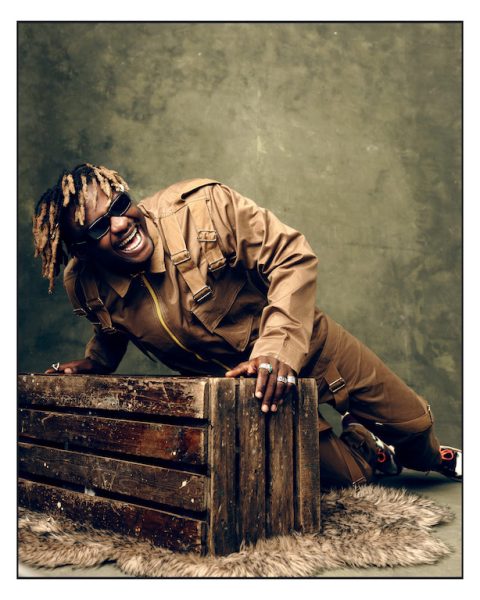 Kotoku D'Mentor, born Richard Larbi, is a talented Ghanaian musician who has made waves in the music industry since 2015. With his unique style and captivating performances, he has garnered a growing fan base and established himself as a promising artist.
Kotoku D'Mentor is a talented musician who has taken inspiration from the likes of Burna Boy, Wizkid, Stonebwoy and other great musicians to create his own unique sound and style. He incorporates conscious messages in his music and uses his platform to promote positive messages. With his passion for Afrobeats, conscious music, and traditional music, Kotoku D'Mentor is dedicated to using his music to make a difference in the world and to entertain every music lover.
Kotoku D'Mentor's music is not only socially conscious, but he is also fun and upbeat. His music is perfect for people who want to enjoy life and have a good time while still being aware of important issues. Whether you are dancing to his Afrobeats rhythms or listening to his lyrics, Kotoku D'Mentor's music is sure to lift your spirits and put a smile on your face.
Kotoku D'Mentor made his debut in the music scene on October 18th, 2018, with the release of his first single, "Happiness." This infectious track showcased his knack for crafting catchy melodies and delivering heartfelt lyrics.
Building on his success, he released "Free the Youth" on September 22nd, 2020, resonating with listeners and solidifying his reputation as a socially conscious artist.
Throughout his career, Kotoku D'Mentor has continued to impress with a string of captivating singles. Notable releases include "Wusie," a collaboration with Pandem and M3dal that showcased his versatility, and "Odeshiiii," featuring Ciiker, which further highlighted his ability to create engaging music. On July 29th, 2022, he unveiled "Family Issues," a compelling song that delves into the complexities of familial relationships.
Currently, Kotoku D'Mentor is diligently working on his latest project, "No More Sad Days," which is eagerly anticipated by his dedicated fan base. This upcoming release promises to further demonstrate his growth as an artist and his commitment to creating impactful music.
Kotoku D'Mentor's talent extends beyond the recording studio, as he has captivated audiences with his energetic performances at various events and shows around Accra. Notable appearances include Glitch Africa, Fameye's Family Concert, Ashaiman to the World Concert which is organized by award-winning musician Stonebwoy, and the popular Chale Wote Festival.
He has also graced the stage at numerous hall weeks in universities across Accra, including Legon, Gimpa, ATTU, and UPS, leaving an indelible impression on concertgoers.
Despite not being signed to a specific label, Kotoku D'Mentor has already gained recognition for his exceptional talent. He received a nomination for the prestigious Gome Music Awards, which is a testament to his growing influence within the music industry.
Beyond his musical pursuits, Kotoku D'Mentor is also involved in trading and works with a printing company that specializes in the production and distribution of clothing. This entrepreneurial spirit demonstrates his versatility and dedication to exploring various avenues for creative expression.
In his free time, Kotoku D'Mentor finds joy in singing, dancing, and honing his artistic skills. He is always up for an adventure, whether it's exploring a new city or trying out a new activity. He loves to step outside of his comfort zone and try new things, and he believes that it's important to take risks and embrace new experiences. Whether he is traveling to a new country or trying out a new food, Kotoku D'Mentor is always up for a challenge and loves to live life to the fullest.
Moreover, he has also displayed a generous spirit by making charitable donations to organizations such as the Great Mission International Rehabilitation & Children's Home and a children's hospital in Accra. This commitment to giving back underscores his compassionate nature and desire to make a positive impact on society.
With his undeniable talent, captivating performances, and philanthropic endeavours, Kotoku D'Mentor is an artist to watch in the Ghanaian music scene. As he continues to push boundaries and share his music with the world, he is poised to leave an indelible mark on the industry and inspire others with his infectious enthusiasm and uplifting artistry.