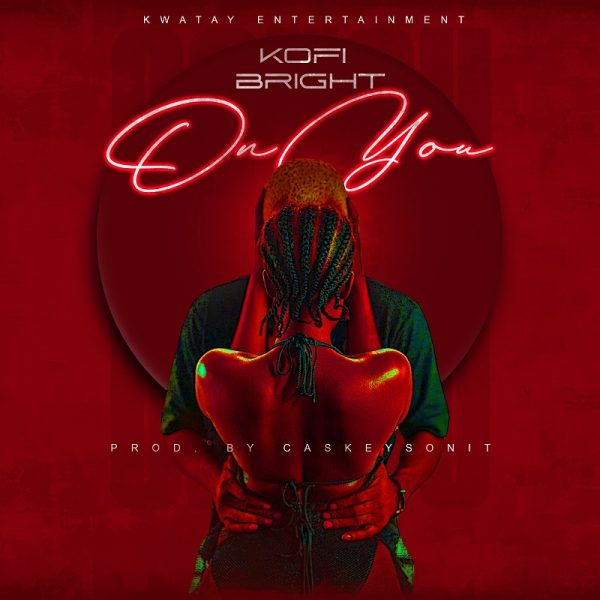 Kofi Bright – begin to get familiar with his name before it becomes a household one! He shares his very first single under Kwatay Entertainment. Titled "On You", the song is a raunchy Afrobeats jam produced by CaskeysOnit, remastered and mixed by Loud City, US-based Grammy Producers; it was released jointly for public under Selaviv Records and Kwatay Entertainment.
Stream Audio on Digital Platforms: https://ditto.fm/on-you-kofi-bright
Watch Official Video on Youtube: https://www.youtube.com/watch?v=auD5Y3QsJcc
The music video was filmed by Ebenezer Brew, popularly known as Slingshot or Famouzly Unknown. Elorm Beenie, renowned Publicist/Artiste Manaer was the Creative Director for Kofi Bright; he took care of his entire outlook, costuming and branding for the set. This raunchy debut single is quite a daring move any new act would want to do, but Kofi Bright pulls it off!
He shares a succinctly erotic Afrobeats record he titles "On You". He explores the world of fantasy sexually with a girl he's been crushing on for a while in his neighbourhood; the girl who also likes him plays the 'hard to get' game till she finally gives in. This sparks his solo career into a fruitful career he envisages for himself.
About Kofi Bright:
Born on July 29th as Bright Jed Kofi Asense. He is a (budding) Ghanaian Afrobeats Singer who hails from Kpando, in the Volta Region of Ghana. Splitting off a duo group, he sparks his solo career under Kwatay Entertainment. Kwatay Entertainment is a Ghanaian Record Label.
Kofi, coming from a place where not-many-musicians are known to be visible mainstream, he is poised to feed the music world his craft as well as give a more resonating sound and class to the Afrobeats terrain with a fine blend of his local languages, more particularly Ewe (mixed with other popular languages), a way he seeks to export his originality with dialect and urbanized Ghanaian ensembles.
His Social Media Handles below:
Facebook, Instagram, Twitter, Tiktok, SnapChat – @KofiBrightMusic
Youtube – @KofiBrightVEVO
EMBEDDED LINKS:
Youtube (Official Video):
Apple Music:
Audiomack:
Spotify: