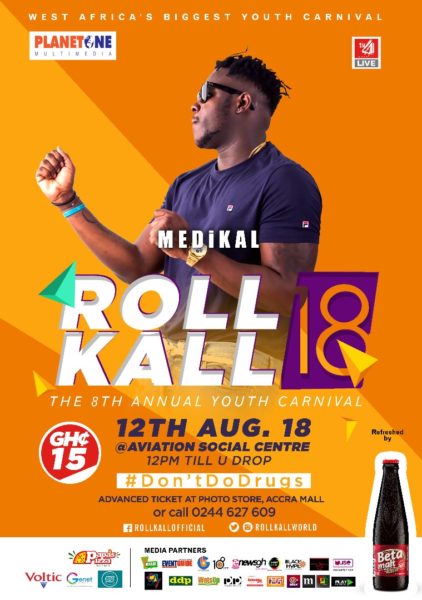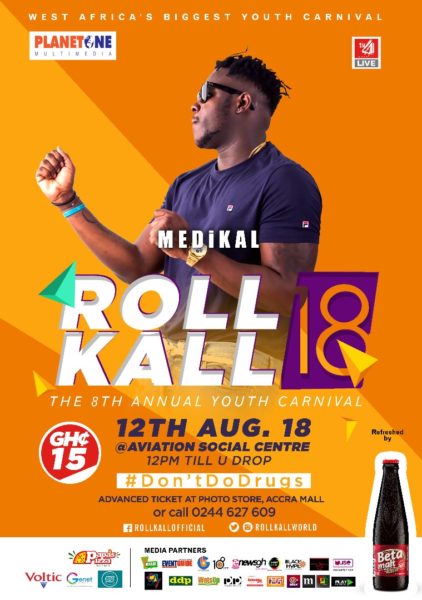 Rapper Medikal has made a huge statement ahead of tomorrow (Sunday- Aug 12.) Roll kall. The AMG Business man says he will be checking the roll at this year's Roll Kall happening at the Aviation Social Center on August 12 (Sunday).
Judging from how rapper Medikal is taking the music circle by storm dropping hit after hit song this year, fans of the AMG business signed artiste know they are in for a jam of their night at this year's Roll Kall.
Check Out : Eddie Khae – Do The Dance (Mixed by XLC)
"You don't want to miss this year's event because when I check the roll and you are absent you will miss a night of extreme fun, – Medikal noted.
The 'Adweeba' will drop hit jams like his verse on 'Grind day Remix, 'Adweeba', 'How Much', among countless hit from his catalogue.
Planet One Multimedia, organizers of the event are promising an extra – the fun day on Sunday at Roll Kall.
Nhyira Bokaye Yiadom, CEO of Planet one multimedia saida: 'this year's event is different; not to talk about Eddie Khae's success as a new artiste with one of the biggest single's in the country.
This year's Roll Kall, which is the 8th edition also falls on International Youth Day therefore organizers are using the big event to celebrate all young people in Ghana.
Nhyira mentioned: 'they want to encourage every young person on International youth day to not do drugs'. We want to encourage the youth to stay away from drugs but stay in school because education is key' – he added.
On Sunday, Every young person is assured that they will get to do the dance the right way with 'Eddie Khae'.
This year's Roll Kall starts from 12noon and runs till you cannot party no more.
Come out in your numbers 'Geng' because on Sunday; "we will be dancing and singing, screaming and rapping, living and doing the dance".