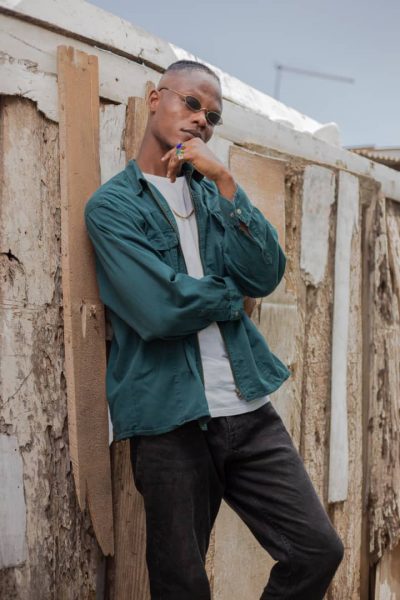 Promising Ghanaian talent Michael Nuku was known in the music scene as Nuku says his versatility in music has made him a gem.
According to Nuku, his uniqueness and versatility in the music game should be supported by music lovers and industry players. He said, "the music space is filled with lots of great talents but I am different and a gem that should be supported"
Nuku started music as a very young age, he says, "Music started off as a passion for me. I'll rather write lyrics in my notebook in junior high school than do anything else. To me, it was a calling, a gift from God. I do popular music or what most people call pop music. Which means all music that is popular and has diverse styles.
His aim is to use his talent as a tool to educate and entertain people, as well as being a voice for them. Currently, he has recorded a little over a 100 songs and most of them are produced by REKX BEATZ, Bass_god, and Beat Masta.
Check Out : Savage Comments As Archipalago Releases Cover Art For New Single
Nuku looks up to music gems like Burna boy and Wizkid "They've been a big inspiration to me." He says he is his sole competition. "I'm too hard on myself to reach excellence and not be mediocre. I want to leave a legacy, not a fantasy."
He encourages his colleague artists to follow their own path. That's where they'll each find true greatness.
The artist recently dropped a single dubbed SETTLE DOWN, "which comes from fragments of my love I felt during my encounter with a special lady. Her good vibes got me thinking I'll be a damn fool if I lose her so, in my quest to prove I want more than just her body, I'll like us to settle down. And that's what brought about the song."
About Nuku
Michael Nuku a.k.a Nuku was raised only by his mother in Tema since he was still a child.
He spent most of his life living at his granny's house with his mother. He had started writing songs since he was 14 years old. However, he began his career in the showbiz industry as a small screen actor.
Nuku, was born on May 24, 1989, is known for his smooth voice, amazing dance moves, boy-next-door charm and got his first role as an inspector named CID TED on Ghanaian drama TV series "THE UNIT – SPECIAL CRIMES". As the years went by, he got more roles in such TV series and movies.
Growing up in Tema, Nuku enjoyed singing in his church choir and was inspired by the musical artist like Michael Jackson. Nuku has cited a number of artists as his inspiration, predominantly Michael Jackson. Nuku emphasizes "Michael Jackson is the reason why I do music and why I am an entertainer. He also showed off his dance prowess by imitating the dance moves of another one of his idols, Usher. Gaining popularity as a small screen actor, Nuku couldn't resist trying his hands at the music industry, he's released a couple of indie songs titled, "Backa Bombay", "Vibely", "Settle Down" and a few more.
Nuku developed a close relationship with @rekx_Beats who's engineer and C.E.O goes by the name Jay Rekx who became his protege after making songs with the beat mogul. Under the assistance of the REKX BEATZ founder, he worked on an EP "RED" and dropped the effort in October, 2016. In the set, he joined forces with other Tema artists, Kelvin Black, Kay So, Robby Adams and a few more.
Nuku possesses a light lyric countertenor vocal style.
https://audiomack.com/nukugotvibes
Check out Nuku on #SoundCloud
https://soundcloud.com/nukugotvibes?ref=whatsapp