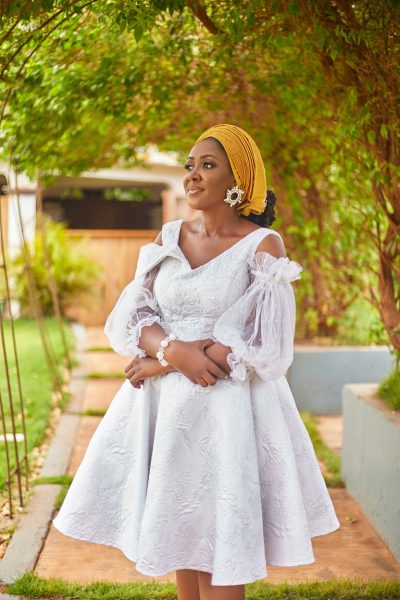 Coming out as the latest Ghanaian Gospel Singer who launched her music career this September, Christiana Hati is putting the right PR in place to push her brand forth with her song ministry.
She drops official video for her debut single 'Testimony' released about a fortnight ago. The video was shot on location in Accra by Scoby Philms.
'Testimony' official video purposefully a lot of spotlight on Christiana Hati as she is seen in most of the picturesque melodiously singing her praise unto The Lord.
Christiana Hati also did a big launch of her TV Show called "Hati Testimonies TV" in lieu with her music career launch, laced with her birthday, celebrated on September 13th.
Stream "Testimony" on Digital Platforms Here: https://ditto.fm/testimony-christiana-hati
About Christiana Hati
Christiana Hati is a Ghanaian Gospel Singer who hails from Kowei, in the Sissala East District of the Upper West Region. A devout Christian she is, she got into ministry and has lately stepped it up to use her voice as a powerful tool to win souls for Christ through The Word of God.
Born as Christiana Hatibie Bentie, as her real name, she comes from a Family of 6 siblings; of which she is the 3rd born. Christiana officially embarks on her singing career in 2023 with her debut single "Testimony" produced by renowned multiple-award winning Ghanaian Music Producer, Kaywa. This single would introduce her into the limelight and open more doors for her to spread her message widely across — within Ghana and beyond — as a Gospel Singer.
"My mission for going into music is to lead believers to worship in spirit and in truth, to praise The Lord for who He is, while encouraging people especially the youth towards righteousness and self-worth" — Christiana Hati explains, her journey into music.
In 2021, Christiana Hati powered an initiative to support widows in the Northern part of Ghana through a widows' support project. The widows' project is called "Help A Needy Widow".
She also has a Gospel Ministration TV Show called "Hati Testimonies TV" – it is a call to help individuals share with the world the power of God to do great and marvelous things. Hati Testimonies TV, is an online Programme on YouTube that would later be on traditional television.
She studied with the Chartered Institute of Marketing UK, later switched to complete a first degree in Marketing and then continued with an MPhil in Global Leadership at the University of Professional studies Legon. Christiana Hati is a businesswoman who is into Construction and Supplies.
You can follow her on social media via these connects:
Facebook — @ChristianaHati
Instagram — @ChristianaHati
X — @ChristianaHati
TikTok — @ChristianaHati