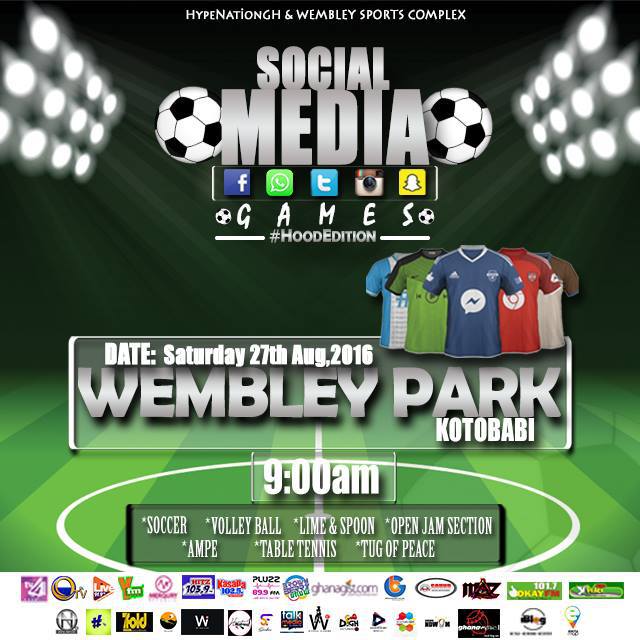 The second edition of the annual Social Media Games dubbed "The Hood Edition" comes off on Saturday August, 27th 2016 at the Wembley Sports Complex, Kotobabi.
Check Out : Sarkodie – Bra Be Hwe (Feat. Guru & Nii King of Accra)
The event, the most sought-after event on the calendar of the youth and most especially social media users will this year aim at fostering peace and togetherness amongst the youth from various communities ahead of this year's election will also be used to create an avenue for socialization, meet-up, establish business contacts and a re-union for long lost friends.
Put together by Hypenationgh the event will see individuals from different communities who are hooked onto social media sites such as Facebook, Instagram, Twitter, WhatsApp, YouTube, Google Hangout among others coming together to form teams to compete with each other for honours.
Games to be competed for include 8-aside football challenge, 8-aside finals for ladies, Ampe, Snooker, Lime & Spoon, Volleyball, Table Tennis, Tug of Peace as well as a rap battle, Photoshoot and Open Jam Section after the games.
According to the coordinator for the games, Mr. Francis Aryee the first edition held at the Ajax Park, University Of Ghana (Legon) last year left many asking for more and we hope this year's edition would surpass that of last year.
"We want to use this year's edition event to preach the message of peaceful election to the youth as the election 2016 approaches."
"The youth make up the larger chunk of voters and they are very vulnerable when it comes to elections as some politicians target and use them to cause chaos during the period and we want to use this games to preach to them that there are better thing to life than being used as a tool for violence."
He noted that there would be peace messages from prominent personalities, politicians, leaders of the youth groups in the various communities as well as some presidential hopefuls to further drum home the need for absolute peace during the December polls.
Furthermore, he revealed that in all at least 20 teams will be involved in the one-day sports extravaganza and will see teams being formed online by individual leaders from the various communities (Hood).
Trophies and products from sponsors would be awarded from 1st to 3rd positions respectively with the other participating teams receiving souvenirs from sponsors as well.
There would be an hour of pure aerobics for all to kick start the games.
Follow @hypenationgh #socialmediagames or call 0263688110 for sponsorship or any enquiries.