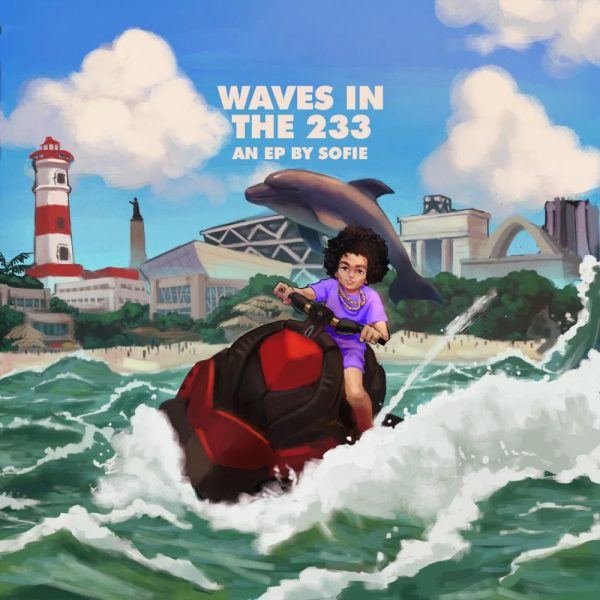 Prepare to be transported to the heart of Ghana as Sofie, the Ghanaian singer-songwriter and producer, unveils her highly anticipated EP, "Waves in the 233." This musical masterpiece weaves a beautiful coming-of-age tale, narrated through six enchanting Afrobeats songs. With its diverse and vibrant instrumentation, the EP explores profound themes of love, hardship, rebirth, perseverance and change, guiding listeners on a journey that emanates the spirit of Accra, Ghana, where the culture thrives and the energy soars.
Accompanied by a beautiful cover art by Hasheem, the imagery of "Waves in the 233" showcases Sofie gracefully riding the waves along the Ghanaian shores, surrounded by iconic landmarks such as the Jamestown Lighthouse, Kwame Nkrumah's "Forward ever, backward never statue," and the Black Star Square monuments, offering a glimpse into a bright and promising future.
The EP consisting of six tracks promises an emotionally enriching experience for all listeners:
Heavy: Infused with Amapiano undertones, 'Heavy' delves into the daily struggles in Ghana and emphasizes the importance of unity within the community. Sofie's melodies intertwine with bouncy drums and tasteful harmonies, leaving an indelible mark.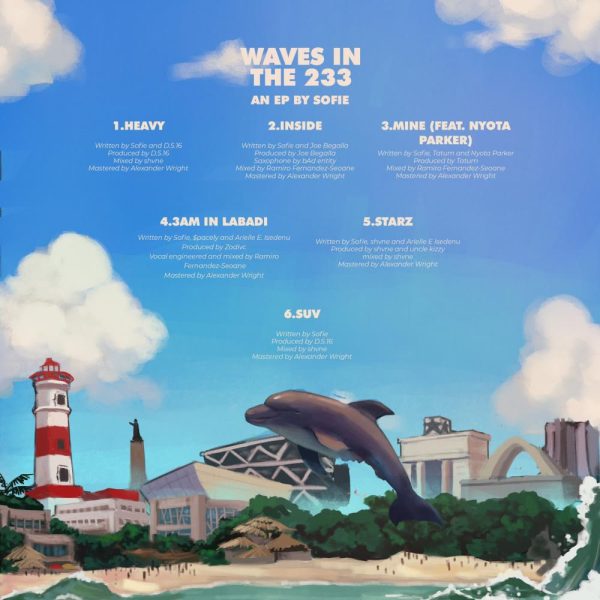 Inside: A sensual and laid-back R&B track, "Inside" invites listeners to immerse themselves in the night's enchanting embrace. With alluring lyrics echoing "Inside for the night," Sofie's captivating vocals create a soulful journey of intimacy and desire. Mine (feat. Nyota Parker): 'Mine' celebrates the beauty of love that feels like home, as Nyota Parker's flow complements Sofie's, crafting a heartfelt collaboration that lingers in the heart.
3am in Labadi (feat. $pacely): '3am in Labadi' immerses listeners in the vibrant city of Accra, capturing the essence of bonding with one's crew. From the soothing ambiance of Labadi Beach to the pulsating energy of the club, this track paints a vivid portrait of Accra's nightlife. Starz: A fusion of Afrobeats and R&B, 'Starz' empowers listeners to embrace their inner power and unlock their true potential. Sofie's uplifting lyrics remind us that we are all chosen, deserving of success and happiness. So, embrace your brilliance and shine like the star you are!
SUV: An invigorating feel-good anthem, 'SUV' transports you to the joyous experience of living life to the fullest in Accra. With vibrant melodies and stimulating sounds, this seamless blend of Afrobeats and Pop offers an exciting and futuristic sound.
With the release of three successful singles from the EP – 'SUV', '3am in Labadi (feat. $pacely),' and 'Starz' – it paves the way for "Waves in the 233". As we ride the waves of life, may we carry the spirit of "Waves in the 233" within us, embracing each new experience with the knowledge that we are capable of making our own waves of positive change. Stream or download "Waves in the 233" across all major digital platforms here: https://fanlink.to/wavesinthe233
https://open.spotify.com/album/33jrzTltI3hRAC4KWGcmW8
Instagram: lionessofie
Twitter: @lionessofie1
Facebook: Sofie