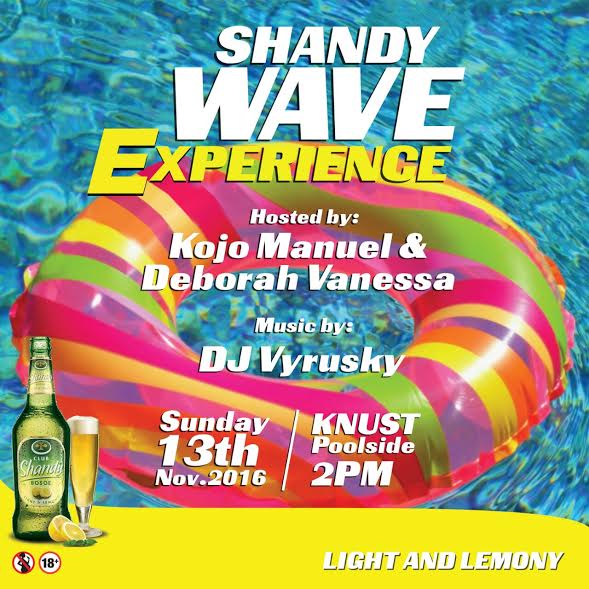 Mark your calendars and make sure your Sunday is all clear for the Shandy Wave Experience (SWE) in Kumasi. The fun scheduled day will bring together party lovers, swimmers and most importantly the wavers.
Check out : Knii Lante – Killa Machine (Remix) (Feat Jupitar & Obibini)
Barbecue at the pool on a Sunday with good music from DJ Vyrusky flanked by MC Kojo Manuel, the fun promises to come with double the excitement. One thing, pool parties on a hot afternoon cannot go any better with a chilled drink and that is just what organizers promise.
It is all free drinks and meat, great music and good company. For people looking at having a great time at the famous KNUST pool, you just have to find the SWE team at the various bars and lounges on the KNUST campus.
With time checked, fun all sorted, music booked, you can't afford to miss the jam of the semester. It's a two-city party so for those in Accra, the fun moves to Legon the next week. Twice the package, triple the jam. As the grand finale, the fun is set to redefine what it means to be young, wild and free. Living and experiencing the best of life as we know it. It's SWE baby!!!!