Afro Jam Concert Live In Luton and Northampton has been rescheduled for new dates. The event was previously scheduled for 2021 Christmas and 2022 New Year.
Preparations were already been in progress but as a result of a few technical hitches event organizers had to make the reschedule possible to be able to able to deliver the best of entertainment to patrons. Afrobeat/highlife singer Blessed Nana Kwame well known as Sunshyn is headline act for the new dates which have been annouced.
Akinlolu Jekins  & Co Limited who are organizers for the event made it known that the new dates for the event are 19th March, 2022 at Escape Venue 5 Horseshoe street NN11AJ NORTHAMPTON and 25thMarch 2022 at 1 Duke Street LU2 OHJ Luton.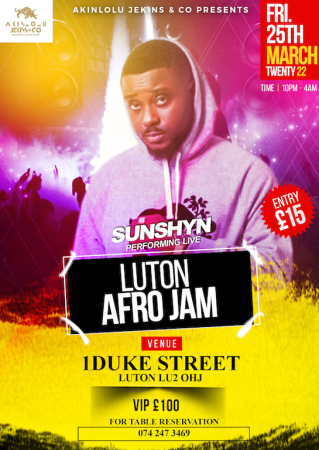 Sunshyn has also released Gorb3, Oh Maame feat. Daylyt, Mensu Biem and so many others which patrons are in high expectation to witness him perform them all. With his vast experience in the music business, rocking the stage is just going to be an easy task for him.
We wish the artiste all the best ahead and certainly believe Akinlolu Jekins  & Co Limited will also do a good job.