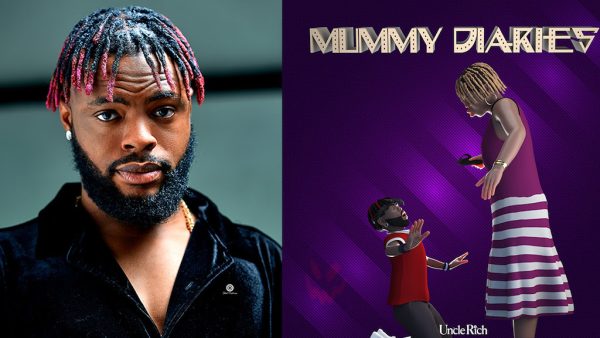 Rising music sensation, Richmond Boamah, widely known as Uncle Rich, is poised to thrill fans with the release of his latest EP, "Mummy Diaries."
Packed with captivating tracks and notable collaborations, the EP promises an immersive musical experience for listeners across the globe. The EP features a range of compelling songs that exemplify Uncle Rich's versatility and lyrical prowess.
Opening the collection is the energetic track K)) which features OKENNETH & JAY BAHD – a collaboration that showcases his seamless blend of rap and melodic hooks. With its infectious beats and well-crafted verses, the song sets the tone for an unforgettable musical journey.
Watch visuals for Yenda off the EP below:
Continuing the EP's momentum is the sensational track YENDA featuring KOFI MOLE & YAA PONO – a captivating fusion of rap and Afrobeat influences. Uncle Rich's seamless chemistry with Kofi Mole and Yaa Pono creates an infectious rhythm that will undoubtedly resonate with fans of diverse musical tastes.
"MUMMY BORE," featuring OSEIKROM SIKANII, brings a fresh and distinct flavor to the EP. The track boasts an engaging blend of Afro-fusion and rap elements, providing a dynamic listening experience. Uncle Rich's impeccable flow, combined with Oseikrom Sikani's charismatic delivery, makes this collaboration an absolute standout.
Uncle Rich takes listeners on a reflective journey with "UNIVERSITY," a melodic and introspective track that highlights his personal experiences and growth. Backed by the production expertise of Mollucan Beats and the skillful mixing and mastering of Possigee, "University" stands out as a testament to Uncle Rich's lyrical depth and emotional storytelling.
Stream/Download the full EP on your DSP of choice here:
https://yve.fanlink.to/MummyDiaries
Rounding out the EP is the thought-provoking "NO LOVE" – a compelling track that delves into the complexities of relationships and personal struggles. With its smooth production by Mollucan Beats and flawless mixing and mastering by Vacs, "No Love" resonates deeply with its raw emotion and introspective lyrics.
"Mummy Diaries" showcases Uncle Rich's dedication to delivering high-quality music, complemented by his collaboration with talented artists and exceptional production teams. The EP is a testament to his creative vision and serves as a testament to his rising prominence in the music industry.
Listeners can enjoy the EP "Mummy Diaries" on all major streaming platforms, including Spotify, Apple Music, and Boomplay. Stay updated on Uncle Rich's journey by following him on social media and his official website.
About Uncle Rich:
Richmond Boamah, better known by his stage name Uncle Rich, is a Ghanaian singer-songwriter who lives in Accra. He is gifted with a distinctive musical style that combines afrobeat and rap to enthral and fascinate listeners whenever his record is played.
Born to Mr Edward Boamah and Mrs Joyce Oteng, Uncle Rich's music diversity and composition prowess stem from the variety of good music he was exposed to as a child.
Due to that experience during childhood, he has developed a wide range of musical tastes and has become an accomplished songwriter, producer and composer.
Uncle Rich's first love has always been music ever since he was a child. He officially launched his music career in 2020 with the release of his highly anticipated single, "Shiver," in 2021.
The song generated a ton of attention in the media, and he began to win for himself fans who loved and admired his music.
Many tastemakers have applauded him for bringing a different feel to the familiar all-day songs that saturate the airwaves. Uncle Rich is one of the few multifaceted artists in the region that can write and create in various genres.
He has five songs, a six-track EP, and five music videos in his discography.
Get interactive with the latest crooner via his socials here:
Facebook: @unclerichmusic
Instagram: @unclerichmusic
Twitter: @unclerichmusic
YouTube: @unclerichmusic
TikTok: @unclerichmusic