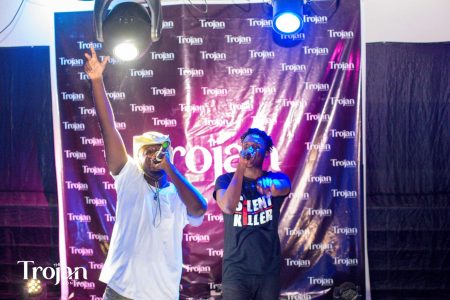 Reigning Western Music Award Hiphop Artiste, Casta Troy, backs up colleague rapper, Nemesis Loso to win this year's 3Music Award Next Rated Artiste in Ghana.
Nemesis Loso, the " Yɛ wɔ town " hitmaker was the last on the bill to perform at The Trojan Concert over the weekend. He put up a great performance which sent the crowd bonkers. He served the crowd with songs from his magnificent Silent Killer album which kept them on their feet till midnight.
Casta, the reigning Western Music Awards Hiphop Artiste of the Year joined him on stage to perform their hit song 'Oh Lord'. In a congratulatory speech, he asked the crowd to vote massively to ensure Nemesis Loso comes home with the award.
The PM hosted event, saw Dj Paa Kwesi aka Africa's Coolest Dj treating patrons to some great danceable songs when there were no performances. The concert had other award winning musician such as Corp Sayvee, Kobby Major and other radio and TV personalities like Jm Ceasar, Roselyn Djan among others seated to enjoy till the end of the show.
Stellar Lodge, Champs Sports bar, Pizza Hut and Anafobisi Clothing were the main sponsors for the event.
Watch video here:
View this post on Instagram