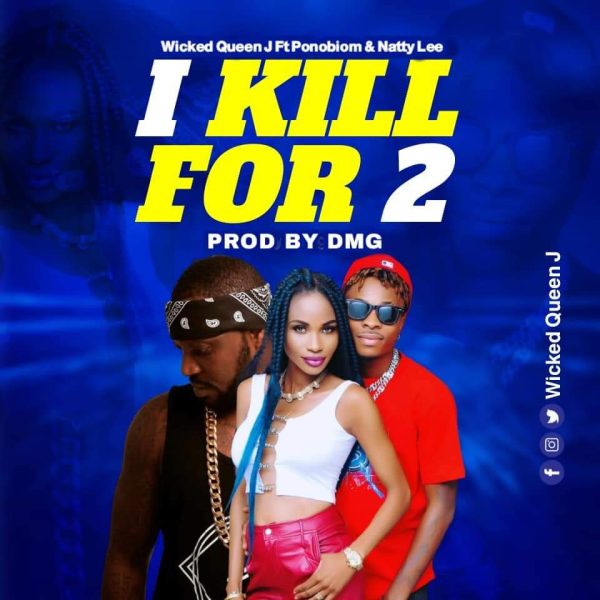 Ghana's music scene is set ablaze once again as the sensational Wicked Queen J drops her latest love ballad, 'I Kill for 2.' Teaming up with the dynamic duo Ponobiom and Natty Lee, the song promises to be a chart-topper, delivering a potent mix of soulful vocals and compelling lyrics.
In this heart-wrenching melody, Wicked Queen J bares her emotions, expressing a willingness to go to extreme lengths for love. The title, 'I Kill for 2,' hints at the intensity of emotions encapsulated in the song, making it a must-listen for fans of the artist and lovers of poignant music alike.
The collaboration with Ponobiom and Natty Lee adds an extra layer of depth to the track, bringing together distinct musical styles that harmonize seamlessly. With Ponobiom's rap prowess and Natty Lee's unique vocal flair, the trio creates a musical masterpiece that transcends genres.
Production credit for this captivating piece goes to the talented DMG, known for crafting beats that elevate the listening experience. The synergy between Wicked Queen J's vocals, Ponobiom's rap verses, Natty Lee's distinctive voice, and DMG's production prowess creates a sonic journey that resonates with the listener.
Wicked Queen J, already celebrated for her previous hit 'Ayew,' continues to showcase her versatility as an artist. 'Ayew' established her as a force to be reckoned with in the Ghanaian music industry, and 'I Kill for 2' further cements her status as one of the country's best female singers.
Listeners can expect a rollercoaster of emotions as Wicked Queen J takes them on a musical journey exploring the depths of love. The lyrics, combined with the evocative melody, create an immersive experience that tugs at the heartstrings.
As 'I Kill for 2' hits the airwaves, it's poised to become a staple on playlists and a soundtrack for those navigating the complex terrain of love. Wicked Queen J's ability to connect with her audience through her music ensures that this latest release will leave a lasting impression on fans and newcomers alike.
In a music scene brimming with talent, Wicked Queen J's 'I Kill for 2' stands out as a testament to her artistry, offering a glimpse into the passion and dedication she brings to her craft. With this latest release, she not only adds another gem to her discography but also solidifies her position as Ghana's best female singer.