Ghanaian rap sensations Amerado and Strongman are making headlines as they collaborate for a highly anticipated joint hip-hop EP titled "Young And Strong."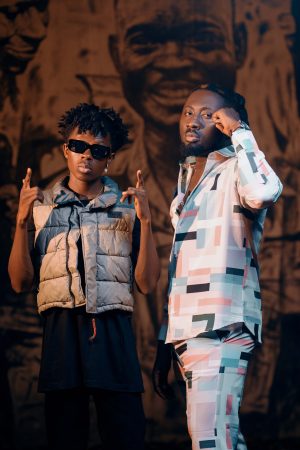 This announcement has sent ripples of excitement throughout the music industry, and as anticipated, music lovers are looking forward to hearing what these two geniuses got to offer.
Their recent collaboration titled "Rap Is Still Alive" rose to number 1 on YouTube's trending song since its release on 14th July 2023. The upcoming joint EP just added more to what rap music lovers expected.
"Young and Strong" isn't only one of the best collaborative projects we've ever witnessed in Ghana; but also a display of incredible artistry, lyrical prowess and impeccable storytelling abilities. We've heard them individually, and it's time to combine greatness!
We've heard rappers collaborate on numerous records over the years, but what Ghanaians aren't used to is a joint EP. We stand to be corrected that the only time we heard about a joint EP in the history of Ghana music was when Sarkodie and Jayso announced theirs. We anticipated it, but unfortunately, we did not get a taste.
Amerado and Strongman are about to break that with this joint EP. As music lovers, we expect all rap lovers to embrace this and give these rappers a tap on the shoulder. They told no lie when they said: "Rap Is Still Alive"!
"Young And Strong" is expected to feature diverse tracks, touching upon themes that resonate with audiences of all ages. From introspective narratives to thought-provoking social commentaries, the EP will offer a glimpse into the hearts and minds of these talented artists.
One of the key highlights of this collaboration is the fusion of Amerado's dynamic flow and Strongman's compelling delivery. These two artists complement each other's styles, "Young And Strong" promises to be a harmonious blend of their distinct talents, setting the stage for an unforgettable musical journey.
The EP is scheduled for release on 28th July 2023 and will be available on all major streaming platforms, ensuring global accessibility for fans.
Amerado and Strongman are thrilled to share their creative endeavour with their fans and are confident that "Young And Strong" will leave a lasting impression on the hearts of listeners. The EP promises to set new benchmarks in the Ghanaian hip-hop industry.
Fans who want to pre-order "Young And Strong" can visit https://onerpm.link/youngandstrong and follow Amerado and Strongman on social media for more updates.