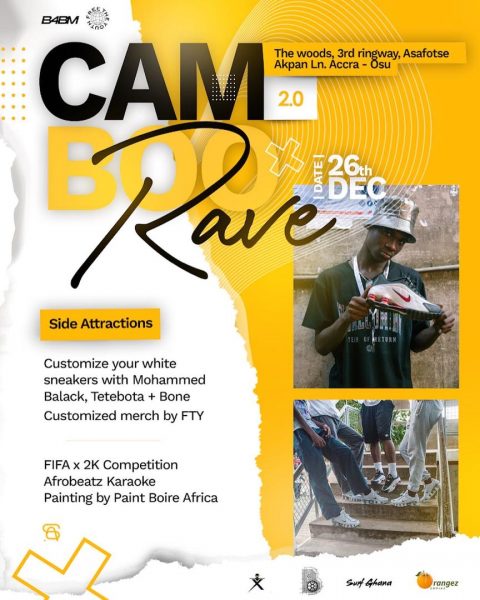 From Gucci to Tom Ford and Balenciaga, sneakers are known on the Ghanaian 'streets' as Camboo has become an essential element of every body's casual wardrobe. Designer sneakers are indeed now perfectly acceptable to wear from the gym to the office. You can comfortably wear them with a pair of jeans for an elegant casual look or dress them up with a suit for a business casual style. Sneakers offer a level of style, versatility, and comfort that other shoes just can't match.
With this craze for Camboo, Ghanaian music Talent B4Bonah and prolific music producer Zodiac are spearheading the first edition of the Camboo Rave happening on Saturday, December 26, 2020 at the Woods,3rd Ringway Asafotse Akpan LN, Osu, Accra.
Check Out : Shatta Wale – Merry Christmas
The event is scheduled to start at 11 am with the Art + Sneaker talk + Music activity which will end at 4 pm, from 5 pm -11 pm there will be a celebration moment with the DJs and a dance battle. DJ Spin will be there to serve some hot jams with DJ Big Stan ready to give the audience some good vibe.
Artistes on the bill are B4Bonah, Kelvin Black, and other known Ghanaian music talents who will be representing at the event. Entry fee which is Gh₵ 100 comes with an unlimited cocktail, customized FTY and a merch.
According to the event owners, the attire for the event is a Camboo (Sneakers) paired with a clean cloth.