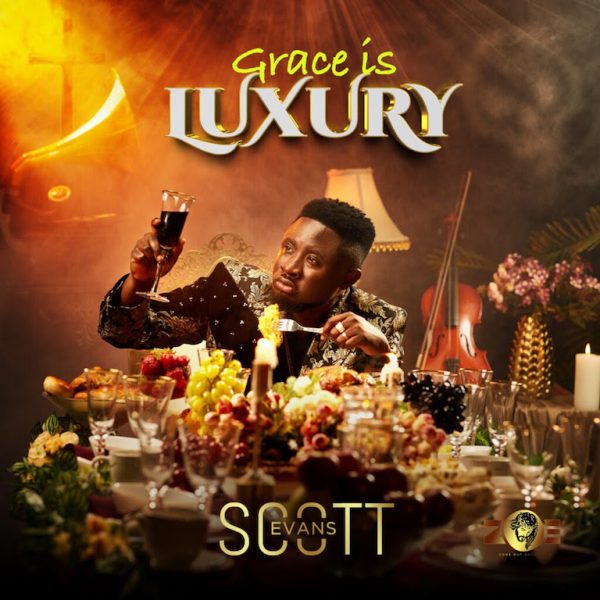 Ghanaian Urban Gospel artist Scott Evans is set to make waves in the music industry with the upcoming release of his EP titled "Grace is Luxury," which is scheduled to drop on the 10th of November.
This highly-anticipated collection of tracks promises to deliver a fusion of vibrant gospel amapiano sounds, marking a unique entry into the Ghanaian music scene. Let's take a closer look at the tracklist and what to expect from this musical journey.
Watch 'Holy Father' visuals below:
1. "AYE" FT. PEREZ MUSIK
Scott Evans kicks off his EP with "AYE," a collaboration with Perez Musik, a renowned name in the world of gospel music who has transitioned into mainstream contemporary gospel.
This track is a beautiful rendition of worship and praise, blending modern sounds with the spiritual essence of the Twi parlance. "AYE" sets the tone for the EP by offering listeners a spiritual and uplifting experience.
In commenting on the inspiration behind the song, Scott stated, "Aye is a well known word used often in Ghanaian local praise and worship. So it came to me one day to simply augment the sound and modernize it to suite the urban sound".
2. "PENTECOAST" FT. MOGMUSIC
In "PENTECOAST," Scott Evans highlights the empowering force of the Holy Ghost, emphasizing its role in guiding individuals towards greatness. This track features the two-time VGMA Male Vocalist of the Year, MOGmusic, adding even more depth to the message. Expect a harmonious blend of gospel music that inspires and motivates.
3. "BEST SIDE"
"BEST SIDE" is already a released banger that encourages listeners to choose the path of God, portraying it as the best side of life. With catchy hooks and a compelling message, this track is set to resonate with a wider audience than it already has.
4. "МАРЕКЗ"
"МАРЕКЗ" serves as Scott's breakthrough song, attracting significant attention to his musical talent. This track showcases his versatility and innovative approach to music.
5. "100 PERCENT"
"100 PERCENT" is a solid single that has been building momentum in anticipation of the EP release. Its catchy hooks and the viral dance challenge associated with it have taken it to new heights. This track beautifully conveys the idea of God's unconditional love and mercy, delivered with a captivating video directed by The Boldz.
6. "HOLY FATHER"
Scott Evans' latest single, "HOLY FATHER," has already outperformed his previous hits. This track features a compelling video directed by The Boldz and a dance challenge led by Dancegodlloyd. "HOLY FATHER " emphasizes the protective power of God over His devoted servant and child, painting a picture of divine love and shelter.
One of the standout aspects of this EP is that all the songs are produced, mixed, and mastered by renowned hitmaking US-based Ghanaian producer, NEKTUNEZ, delivering a consistent and high-quality sonic experience throughout.
Moreover, it's worth noting that Scott Evans has played a pivotal role in introducing the amapiano genre to the Ghanaian Gospel music scene, making this EP a groundbreaking addition to the industry.
In the world of music, management plays a crucial role, and Scott Evans is in good hands with the guidance of Zone Out Entourage. With their support, the "Grace is Luxury" EP is poised for a successful launch and a promising future in the music world.
As the 10th of November approaches, music enthusiasts and fans of Scott Evans can eagerly anticipate the release of "Grace is Luxury." With a fusion of gospel amapiano, this EP promises to deliver a unique and spiritually uplifting musical experience, making it a must-listen for all.
Accompanying the compelling tracks is a cover art that encapsulates the essence of "Grace is Luxury." The artwork is a visual representation of the EP's theme, showcasing the harmony between the medieval feast of kings and the luxurious nature of God's Grace.
Mark your calendars and prepare to immerse yourself in the musical world of Scott Evans as he unveils "Grace is Luxury" on November 10th. This EP is set to be a testament to his talent and creativity, leaving an indelible mark on the Ghanaian music scene.