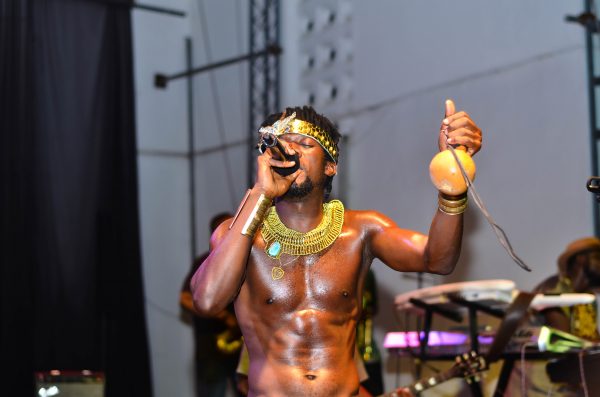 This year marks the third edition of WORLAFEST; Festival Of Arts & Music, (WORLAFEST) an annual all day music and arts event held in Accra-Ghana. The name itself "Worla" means "the creator". The festival is also an extension of the artistic face of Ghanaian musician Worlasi, who doubles as a painter & animator.
Born and raised as Worlasi Langani in Agbozume in the Volta region of Ghana is a musician and a painter. His abilities cut across music and figure painting. Worlasi's interest in music started while listening to radio, and sampling the beats of songs he felt didn't quite meet high standards. His inspiration to do music comes from personal experiences and what goes on around him, which he translates into instrumentals and then to words.
General Overview Of Worlafest 2020
On 7th Novenber 2020 Worlafest started as early as 12pm with amazing art exhibitions during the day and at night, the magical night of music started at 6pm with the hashtag #ComotForWorlafest.
The artiste lineup was impressive and each did an awesome job at entertaining patron,accompanied by extremely talented bands such as safua band etc, had the crowd up and dancing on their feet and well warmed up and were ready for the man of the night Worlasi ,who did not disappoint. his entry was epic.
His performances were a mixture of his last album "The Man And The Gods" and current songs with his usual band Senku Band.
The overwhelming moment was when his Worlamy, his fans, knew most of the songs and even specially requested for some.
The magic that Worlasi and the Senku band created was beautiful. That band is pure genius.
Kwakwa and the Safua Band gave the audience an amazing performance
Shaker came with his performance and everyone just couldn't get enough of his performance and energy!
Manifest came to show his support and performed the catchy song including Cucuracha which features Worlasi.
The ladies on the bill were awesome as well. Adomaa proved to us she was a goddess with a rousing performance.
Kafui Chordz with that silky touch of a voice was the surprise of the night as she got music scholars talking and wanting to know more about her.
Asi gave patrons chills with her perfect voice
The artist's connection with the audience was very perfect and I must say there was never a dull moment.
Biggest Moment
Worlasi, aside from his energetic performance, had to show gratitude by honoring prominent people in the industry like Hammer Of Last Two,FOKN Bois, Wiyaala,Manifest and Senku Band for inspiring his musical journey.
I can say with authority that "Worlafest 2020" is one the biggest music and art festivals in Ghana and Africa. Congrats to the Organizers Of "Worlafest 2020"
Get the songs of Worlasi on all digital platforms and enjoy real music in it's purest form!