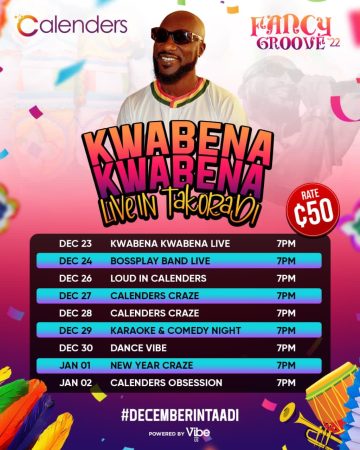 GOOD NEWS!!! The long wait is over!!!
Calenders — the latest Restaurant & Lounge in Takoradi officially opens to public on Friday, December 23, 2022 with none other than the Celebrated Ghanaian Highlife Crooner, Kwabena Kwabena.
Kwabena Kwabena, known for his captivating stage performances with serenade patrons for the night with classic Live Band, and this only costs GHC 50! Very cheap huh? That's a sure way for you to come through with your entire Family, Friends and Colleagues to close the year on a hearty and bubbly note.
The official launch of the venue which kicks off on Friday, December 23rd extends into a long week of listed activities scheduled for other days. Below is the line-up of all Activities captured for the period.
• Friday, December 23rd — Kwabena Kwabena Live
• Saturday, December 24th — BossPlay Band Live
• Monday, December 26th — Loud In Calenders
• Tuesday, December 27th — Calenders Craze
• Wednesday, December 28th — Calenders Craze
• Thursday, December 29th — Karaoke & Comedy Night
• Friday, December 30th — Dance Vibe
• Sunday, January 1st — New Year Craze
• Monday, January 2nd — Calenders Obsession
Start time for all activities for the respective days is 7:00pm sharp!
Calenders is a plush multi-purpose eatery and beverage facility that caters for culinary activities as well as serves as a serene and secured place for various outdoor events. Do refer to event flyer for any further details and reservations.
Follow Calenders via their Social Media Connects below:
Facebook — @ CalendersEvents
Instagram — @ CalendersEvents
Twitter — @ CalendersEvents
TikTok — @ CalendersEvents