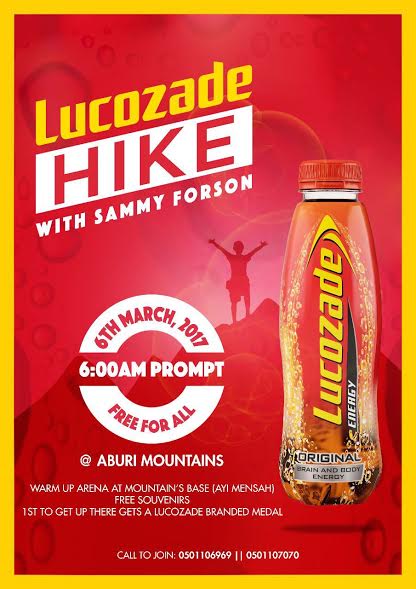 Nothing says endurance more than Lucozade Energy. The glucose releases instant energy so that you get the best of both worlds: bubbly refreshment energy in every sip. And the brand that you've trusted for generations is perfect for every generation in the family. So, do you need the energy to keep going on and on all day?
Check Out : IWAN – Fanfooler (Shatta Wale Diss) (Prod by Brainy Beatz)
Lucozade is celebrating Ghana at 60, with Sammy Forson taking on the challenge of the Aburi Mountain hike this Monday, 6th March 2017. The event dubbed "Lucozade Hike with Sammy Forson" is taking a different twist from the regular and it will be fun. There will be a Lucozade warm-up arena at the base of the climb with music and finally an aerobic session with the "Azonto Boys" at the top of the mountain.
The first person to get to the top gets a Lucozade Branded winner's medal. Corporate bodies, friends, family members and all who believe in living that healthy lifestyle or want to challenge themselves to something new for the first time, this is the time to do so. There will be free drinks and souvenirs so come and let's all join the fun celebrating Ghana's 60th independence anniversary. Remember registration is free; just call 0501106969 or 0501107070 to join. Start your journey this Monday, 6th March 2017 and Lucozade will power you to the very top