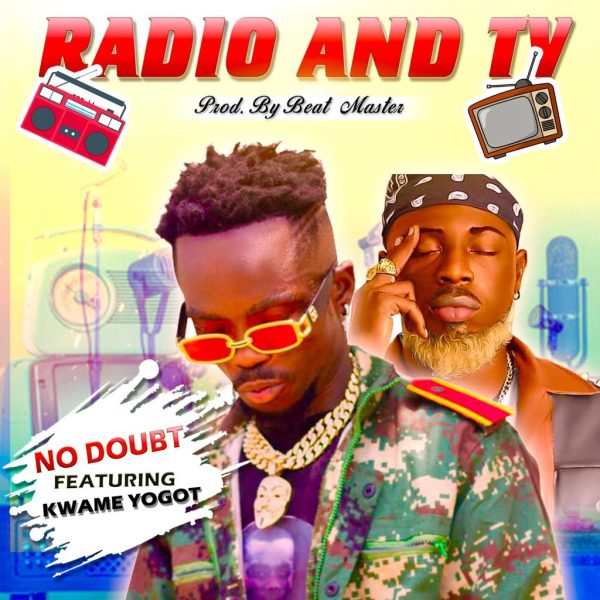 Ghanaian singer and songwriter, No Doubt has released his latest single, 'Radio & Tv', The budding musician featured decorated rapper Kwame Yogot in new song which will surely warm into the hearts of music lovers.
listen here:https://song.link/c7x2qddjtf5xc
The tune "Radio and television" dives into the impact and effect of the media, explicitly radio and TV, on society through its melodious substance. This tune causes to notice the effect that different types of media have in affecting the contemplations and deeds of people and changing individuals' perspectives. It illuminates the power that the media has to scatter data, proliferate messages, and interface people from different foundations and encounters.
Both No Question and Kwame Yogot add their own particular flavor to the track, which considers their very own smooth reconciliation approaches into the general organization of the tune they chipped away at together. Their capacity to blend their voices so that makes a significant and snappy chorale that will have audience members chiming in a matter of seconds at everything is obvious proof of the association that exists between them.
The tune "Most likely" epitomizes the vocalists' flexibility and capacity to interface with crowds from a different range of foundations. The single deftly mixes components of hip bounce, pop, and afrobeats, bringing about a sound that challenges classification and is empowering and convincing. The melody "Radio and television" can possibly turn into a hit in view of snappy cadence and snares are not difficult to recall. This will engage admirers of a wide assortment of melodic styles.
https://music.apple.com/gh/album/radio-tv-feat-kwame-yogot-single/1688879809
As a general rule, the tune "Radio and television" by No Question including Kwame Yogot is an exhibition of the performers' expertise and creativity. As a result of a partnership between those musicians and Beat Masta, who is also a skilled producer, an outstanding song featuring some of Ghana's most talented musicians has been produced. This melody is a fantastic illustration of Ghanaian music at its best.
Devotees of afrobeats and anyone looking for a new and special melodic experience ought to give "Radio and television" an attempt due to its paramount tunes, solid vocals, and interesting verses. This tune is an unquestionable requirement.