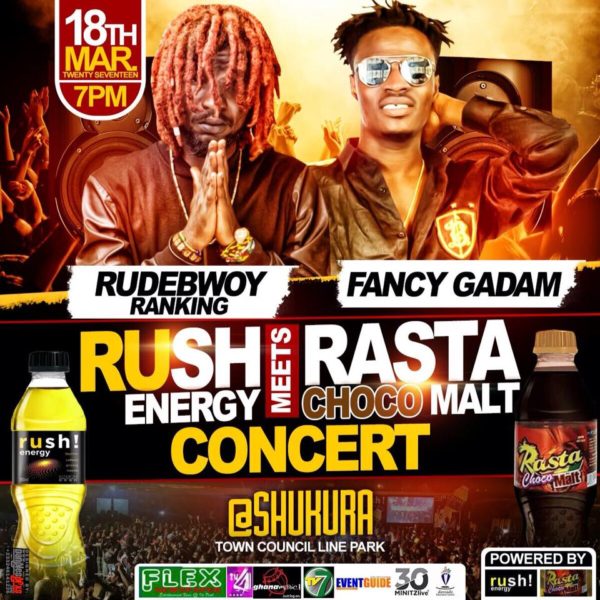 This Saturday, 18th March is going to be a war of lyrics as Twellium Company Limited brings to Shukura the two dancehall greats. It's Rudebwoy Ranking representing Rush Energy Drink and Fancy Gadam representing Rasta Choco Malt.
The journey started from Tamale, moved all the way to Nima, then Ashiaman. It's going to be epic and dancehall lovers in Shukura and it's environs will be served with the best of the best.
A wonderful event which has helped the two acts gain recognition all over the country as well as nominations in the upcoming Vodafone Ghana music Awards. Rudebwoy Ranking has won nominations for Reggae/Dancehall Artiste of the Year, Best New Artiste of the Year and Reggae/Dancehall Song of the Year while Fancy Gadam has won nomination for Best New Artiste of the Year.
Town Council Line Park, Shukura will be set ablaze this Saturday. Flex Newspaper, 4 Syte Tv, Tv7, Event Guide, 30 Minutz are media partners and the event is powered by Rush Energy Drink & Rasta Chocho Malt.