The moment of truth is finally here! Two of Ghana's favourite rap artists, Amerado and Strongman, have released the much anticipated "Young and Strong" EP. This clearly illustrates Ghana Rap and Ghana Drill music in HD pictures!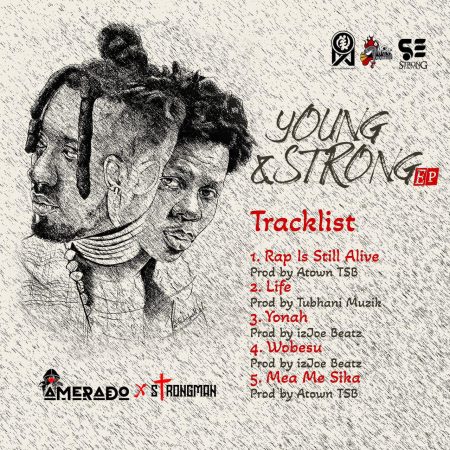 It's the first of its kind in the Ghanaian music industry, and we at Ghanandwom love it! We knew this would be a great project, but it's even better than we ever imagined! More like a full-party playlist packed on one EP.
Let's quickly dive into each song and know why we got addicted to them. Before we do that, we want to congratulate both labels for bringing up this record-setting idea! Now, let's do this!
"Rap Is Still Alive" came out as a single from this project, and the buzz went haywire! The song had the first spot on YouTube Trends for over a week, and rap music lovers expressed their various opinions and commended both artists for their exceptional delivery! If you've not listened to that yet, Check it out HERE.
The song "LIFE" touches on an emotional topic we believe most hustlers can relate to. It talks about dreams, aspirations and the thirst for success. These rappers possess that storytelling ability which made a bold statement on this song. This is a day starter for us!
We took a huge jump onto the dancefloor with the next Ghana drill banger they call "Yonah". This is the "Joy after the Pain" kind of song. After the backstabbing, discouragement and no hope, things turned out great regardless. This is for the winners and people celebrating their achievements. You'll relate to the lyrics!
Another Ghana Drill banger follows up! They call this "Wobesu," which means "You'll Cry". We thought "Yonah" was our favourite, but this song adds more to the EP! The bounce, the lyrics and the witty flows are everything! You'll love this one!
Finally, they ended it all with "Mea Me Sika," which means "It's My Money". With this, you know what to expect when you pay attention to their approach to topics like this. This song goes free, wild and carefree! A perfect party song that'll get you goofy and proud!
CONCLUSION: Every song on the EP hits differently, and we can boldly say Ghanaian Rap and Ghanaian Drill music is fully alive and active! Enjoy a great EP.
Spoiler Alert: The EP is already trending on Apple Music!
Streaming Link Here : https://onerpm.link/youngandstrong