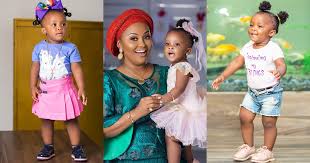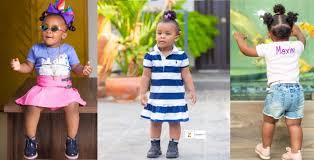 On Sunday, February 21, 2021, star actress Nana Ama McBrown's daughter Baby Maxin celebrated her birthday. The bouncing baby girl who was born in Canada in 2019, turned two years old yesterday and it was celebrated in grand style with an amazing picture on social media.
Baby Mawusi Mensah Maxin's second birthday has dominated social media trends as the little girl's beautiful birthday photos keep flooding the internet. Pictures on her mother's Instagram pages also add to the trend as many adored the beautiful baby with words of admiration and blessings. The latest of the many photos which have flooded social media are interesting ones.
One picture that caught the eyes of many is when Baby Maxin was seen wearing a bikini. Maxin is seen rocking a colorful bikini while standing beside a swimming pool. Lovely video drops as McBrown's daughter Baby Maxin gets on the dancefloor during her 2nd birthday celebration in church. Just to her left was a table that had a miniature beach/poolside umbrella on it for shade. On the table was a small cake. In the first photo, Maxin stood with the cake in her hands while her baby (toy) lied in one of the two lazy chairs. In the second photo, the little girl bent down and gazed at something nearby. Maxin's bikini photos for her second birthday have stirred massive reactions from social media users.
Meanwhile, McBrown and her family have attended a thanksgiving service in the church. The thanksgiving service was thought to be to honor God for adding a year to the life of McBrown's daughter Baby Maxin. A video has popped up showing Maxin on the dancefloor with her mother during praises. Earlier, Nana Ama McBrown and her husband, Maxwell Mensah, had been spotted in new family photos. The photos have McBrown and Maxwell posing with all their children, Chauncey, Phoebe, and Nikita.
Source: Yengh